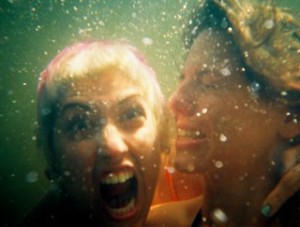 The perfect woman crashes into Rick Hart's solid life—his daughter-in-law, Mary. What will he risk to claim the family his son gambled away?
Synopsis:
Mary's house disappears on a sure thing. So does her husband, Andy. Vultures want money and she's out of places to hide.
When it's autumn in Stratford, Mary, a costumer for the Festival, can still work and the kids almost believe living in the rusty van is an adventure. As December in Toronto drags on, the money runs out, Rory's fever spikes and Jack asks, "Can blood freeze?" Mary knows what she has to do.
Engineer, Richard Hart has built a stable existence, bricks of disappointment, longing and regret mortared with routine. When he opens the door in a sleeting rain, a family he knew nothing about crashes into his ordered life. Reluctance is overpowered by the mother's tenacity and the basement becomes their secret world. Earthy Mary, both roots and ignites him and something about Jack and Rory draws him down the stairs each evening—the potential he once saw in his son.
New Year's Eve, 2006, Rick savours what he's found. January 1st, 2007, Andy wakes, to the bitter taste of what he's lost. Both resolve to redeem the past. And, so begins a duplicitous three year dance between father, son and Mary Gray-Hart. Lies, half-truths, addiction and forbidden love tangle them in a web of competing desires and inescapable family bonds.
Read Excerpt:
Only sub-human scum leaves a dog in the car. You should be put down. Mary absorbs the kick from the note left on her windshield. She hasn't cried, not a tear, since Andy gambled her world away. She won't waste her resources on it now. There's one hand left to play. She's holding two cards, a Jack and a Queen—three, if you count the dog, King.
The snaking driveways steady her as she searches for the stone house. Five years ago, on their return from Atlantic City, Andy detoured through Toronto to show her where he grew up. Mary wanted to say hello to her new family.
Andy measured the rain outside, the lights inside. "Not yet, but take a good look. One day our kids will live here." Many times since, Mary imagined Andy bringing her back to meet his father.
She locates it, circling back to make sure she's on the right street. An assault of damp wool and wet dog wallops her as she rummages for her brush. Jack surfaces from a heap of blankets, taking in the height and width. "Holy crows. Is this our new house?"
The drapes open a crack. "Do up your coat. Slip inside as soon as he opens the door. Watch you don't get slush on the floor. Leave King here till we get things sorted."
"Leave Rory too?"
"She doesn't have fur like King." Hoisting Rory, blanket and all, they hurry through a fine sleet, up seven curved steps and knock, ring the bell, then knock again. Jack skitters in when the door opens.
"Mr. Hart?" Mary ploughs inside.
"What the hell is this?"
"I'm Andy's wife, Mary. This is Rory and Jack. We need a place to stay."
"Well, you're not staying here." December cold streams in. He leaves the door open. "Get out—now."
"Please, Mr. Hart. It's here or the van."
"Sir, I really, really have to pee."
"Jack, take off your boots."
The man sputters as Mary steps out of hers and tries the first door. She chooses right.
"Lock it, Jacks." She lowers Rory to the mat and tests the heat radiating from her little girl's cheek.
"What the hell do you think you're doing?" He pounds the door. "I'm calling the police."
Jack's face borders on hope. "Policemen are our friends, right, Mummy?"
"That's what they tell us, Jacks." Ice-blue walls add the only spec of colour. Everything else is white and placed with preciseness. She wonders if Andy really is his son. She unfurls TP. "Here, dry your hands with this."
"Why?"
"Don't want to mess up the man's towels."
Mary opens the door. He's red-faced angry.
"I'm sorry to explode on you like this. If we had anywhere else to go we would."
"Not my problem, lady."
"Please, we—"
"Out. Now."
"But, An—"
"Not listening to what you're peddling. Go."
"Put on your boots, Jack. Do up your coat."
"Where're we going?"
"We'll play campout again."
Those who have tasted Canadian winters know the game sucks. "Nooo, Mummy. Please."
She retrieves Rory, who is waking and picking up on Jack's terror. Her cry is a raspy whimper by the time Mary plunks her on the back seat. Jack concedes defeat, too easily, and gets busy layering on clothes. "I want to go home."
"There's no home to go to. We're staying right here."
"But he doesn't like us."
"He's just scared." Mary props Rory up beside Jack. "Somebody once told me he's too kind for his own good." She zips the sleeping bags and piles blankets from the old house over and around. She lets the van run to absorb a little of the dampness, spreads peanut butter on bread and mixes a little chocolate in with the powdered milk, adding a pinch of a crushed Tylenol to Rory's.
"Make King one too, 'kay, Mummy?"
With the middle seat out, nested on a mattress between their remaining possessions they huddle for warmth. She tells them stories by heart.
"Rikki-Tikki-Tavi saved them, didn't he." Jack dream-talks. "Can I have a mongoose when we get a new house?"
"It'd have to be in a warm, far-off place."
"Where lions live?"
"Yeah, that's the place."
His mittened hand strokes the dog. "King's better than ten mongooses."
Jack dreams of safaris. Rory chases music. Mary is afraid if she falls asleep they will die.
Mr. Hart taps on the window at 1:16; voice muffled through the glass. "Side door. Downstairs. Just tonight." He trudges back into the house leaving her to haul kids, blankets and a dog along an icy path and down some shadowy stairs. One door is open, one room lit, with a big bed, a dresser, a nightstand—the kind of furniture that belongs in Architectural Digest. A sapphire wall frames a massive Pollock reproduction.
Rory finds her thumb unearthed from mittens. Jack sighs over the plump of white pillows. King curls solid against the door.
Home